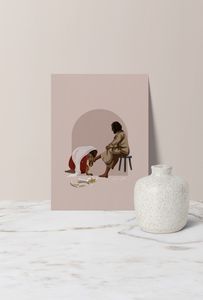 The Footwashing Series: Mary Magdalene with Free Worldwide Shipping
The Specs:
A5 or A4 print size options
240+gsm smooth professional printery art stock
Carefully packed with backboard for safe shipping
🏺Mary poured the most precious, costly thing she had on the feet of Jesus. She didn't just tip some of the perfume out, she broke the jar - none of her adoration or surrender could 'go back in'.

🏺Every alabaster jar is different. The most costly thing for me to pour out on Jesus' feet will not be the same as the fragrance you have to worship Him with.

🏺Mary was judged by onlookers as "wasteful" in her extravagant love - condemned + disqualified for her sinful history, and for what her worship of God looked like. [How often are we guilty of this?]

🏺What's the alabaster jar you have to give Jesus? Will you break it open and pour it out, no matter how expensive it is, no matter what it looks like to anyone else?

⚱️🍯✨ Like Mary, you'll end up just as covered by the precious perfume as Jesus was.